Skip to Main Content
It looks like you're using Internet Explorer 11 or older. This website works best with modern browsers such as the latest versions of Chrome, Firefox, Safari, and Edge. If you continue with this browser, you may see unexpected results.
Like a smoothie, an ADAPTATION / derivative / remix mixes material from different sources to create a wholly new creation.
In a "smoothie" or adaptation / remix, you often cannot tell where one open work ends and another one begins.
An example: an open textbook chapter that wove together multiple open educational resources in such a way where the reader can't tell which resource was used on which page.
The endnotes of the book chapter should still provide attribution to all of the sources that were remixed in the chapter.
Like a TV dinner, a COLLECTION compiles different works together while keeping them organized as distinct separate objects.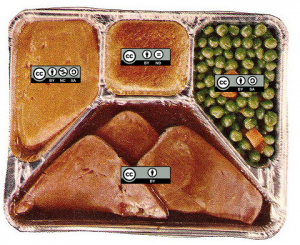 Attributions: "CC TV Dinner" by Nate Angell. CC BY. Derivative of "tv dinner 1″ by adrigu (https://flic.kr/p/6AMLDF) used under CC BY, and various Creative Commons license buttons by Creative Commons (https://creativecommons.org/about/downloads) used under CC BY.
When you create a collection, the copyrights in the individual works remain intact with the creators of those works.
The endnotes of the book collection should still provide attribution to all of the sources that were remixed or aggregated.
When you combine material into a collection, you may have a separate copyright of your own that you may license. However, your copyright only extends to the new contributions you made to the work. In a collection, that is the selection and arrangement of the various works in the collection, and not the individual works themselves.
For example, you can select and arrange pre-existing poems published by others into an anthology, write an introduction, and design a cover for the collection, but your copyright and the only copyright you can license extends to your arrangement of the poems (not the poems themselves), and your original introduction and cover. The poems are not yours to license.